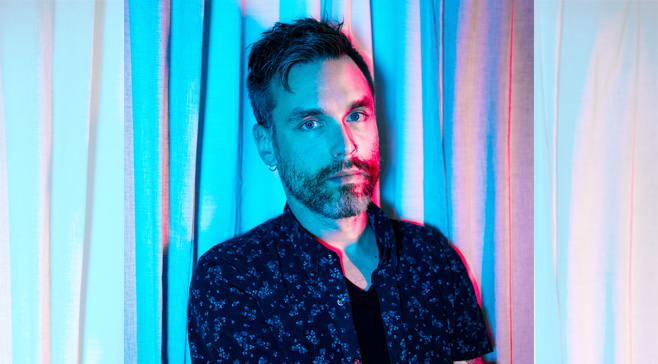 Photo: Courtesy of Kris Herrmann
After making tons of music in his decade-plus solo career, Ypsilanti indie-folk artist Chris DuPont is set to release something he has always wanted to make: an EP.
Oh, and power ballads with big guitars and drums.
DuPont combined the saturated sounds of the 80s with his known chamber, indie-folk sound on his new, self-produced EP "Fragile Things," which was put out on Nov. 10. A release concert will take place at 7:00 p.m., Nov. 17 at Frutig Farms in Ann Arbor for both his EP, and the new EP from his musical partner Kylee Phillips, who also sang on "Fragile Things."
"People familiar with my catalog will have received hints of this (sound) on previous albums, but I think they will be able to crank it this time," DuPont said.
He was born in Indianapolis, where he was a homeschooled student before moving to Grand Rapids when he was 15 years old. It was only a few years later when DuPont said he began making music, but perhaps not in the genre fans may expect.
The current-day folk artist used to play in a couple of metal and screamo bands during the mid-2000s, though unbeknownst to his bandmates, DuPont was itching to make more thoughtful and acoustic guitar-driven music. This desire to say more in his lyrics eventually pushed him to go solo.
He moved to Ypsilanti in 2009 and entered the performing arts technology program at the University of Michigan. Citing artists like Nick Drake, James Taylor, Ben Howard, and The Paper Kites as influences, his folk music heavily uses string arrangements for added cinematic flair.
Dupont has shared a live stage with notable names like Theo Katzman, NEEDTOBREATHE, Peter Mulvey, and May Erlewine. He has released at least three studio albums in his career so far, along with 2017's "Live in A2," recorded at The Ark and Solid Sound Recording Co.
His most recent full-length album, 2021's "Floodplains," was a deeply personal and emotional record that followed a turbulent 2019-2020 that saw his marriage end, him leaving his Catholic church job following painful revelations at his church, and stress from the COVID-19 pandemic. That album took a lot of effort to make and drew a heavy mental toll on DuPont, who said he wants to get himself in the habit of releasing music more often. So, he wanted to release something shorter that still showed effort was put into it.
"Fragile Things," was also produced by DuPont himself, who recently began producing music for local artists like Phillips' new EP, "Long Time Coming." The two will embark on a regional tour following their release show in Ann Arbor.
Tickets for the release show can be purchased on DuPont's website. He recently spoke to ann arbor's 107one about his new EP, his production work, and his thoughts on the current Michigan music scene.
107one: Not sure if you have been asked this before, but I got to ask because of the name: does your last name have anything to do with the chemical company DuPont?
DuPont: (Laughs) I do get that a lot. There is no relation that I am aware of but (my family has) a similar story to the chemical DuPonts. My ancestors immigrated from France, to Quebec, then trickled down into Connecticut and Vermont. There may be a loose connection with the chemical company, but I'm not seeing any financial benefit (laughs).
Let's talk about your new EP, "Fragile Things." Why an EP and not an album?
I've always loved EPs, and I've never made them. Some of my favorite records have been shorter works or EPs, like Michigan artist Jeff Pianki. He put out this EP (about) 15 years ago called "Paper Window." I think it had five or six songs and a couple of interludes, and I remember listening to that thing over and over. (I love) the form of a shorter work, especially when it feels like it belongs together.
You mentioned that you were going for a different sound on this EP. Can you elaborate more on that?
I have a love and frustration relationship with folk music because I love showing up with an acoustic guitar and translating a song in its simplest form, but it's also a limited color palette. The artists I get excited about are the ones that make their own rules. I'm a huge fan of Noah Gundersen, (who) started folky and has tried everything. He will put out an electronic-tinge pop record, (then) a rock record, and does what he wants. That is the stuff that excites me: when someone with folk roots tosses the rulebook, so I decided to do what was exciting. I love '80s power ballads, big guitars, and big drums, and I have always toyed with that kind of stuff in the studio.
What initially drove you to want to make music?
When I was in Grand Rapids, the dream was always to be an electric guitarist in a band (because) I thought rock music was super exciting. I am still a bit of a conflicted listener because I love heavier music like Deftones, but when I played in a (metal) band, I was also secretly listening to Sarah McLaughlin and Lilith Fair.
Yeah, if you are in a heavier band, you don't want to tell the bandmates about that.
Exactly, yeah, they were like, "Man, we need to stay mad, stay heavy." I had a lot of fun, I loved playing divey rock clubs, but things were not moving quickly. I realized that I was never going to say the things I wanted to say without creating and writing my own music. I guess I got irritated and started writing softer music on an acoustic guitar and that felt like home. The more I did it, the more I loved being on stage and being a storyteller. There's an intimacy to songwriter music that is special and therapeutic, so I caught the bug and decided to keep chasing it.
What were those things you wanted to say specifically?
A lot of what I wanted to say in solo songwriting was my imagining of the world and how I viewed relationships, interactions, and religion. Faith and religion are a big part of my upbringing and culture, and it's something that both means a lot to me and has felt deserving of critique and questioning. As a solo artist, I get to play with that. I use language from the faith system I came from, manipulate it, and ask uncomfortable questions.
What religion was that?
Catholicism, and a lot of songwriters deal with the Catholic thing. If you look at Ben Gibbard from Death Cab (For Cutie) and Justin Vernon from Bon Iver, a lot of them are working out their Catholic guilt.
I got to ask: what were the names of your metal bands?
(Laughs) I was in a band called Grey Halo. They were good guys, and I still keep in touch with some of them. Then I was in a very short-lived screamo band called Three Years Chasing.
What a perfect screamo band name!
(Laughs) You knew exactly what you were dealing with when you (heard that name).
What went into making "Live in A2" together and why did you want to give a shout-out to the Ann Arbor area?
I thought, "What if I could make a live project, but craft it and put some intention behind it?" I wanted it to be a live record made by a guy who doesn't love live records. I had this vision of taking my songs that had been updated or lived in (while) on the road, and present them as they had grown, so we captured a multitrack at The Ark that (made) a nice recording… For the other half, I brought some players over to Solid Sound in Ann Arbor and played live again, but in a studio in front of nice microphones with plenty of time.
I made that record for two reasons: Number one, I wanted to create the live record I was hearing in my head. Secondly, it was a love letter to my hometown and the people who listen to my songs in that hometown.
How do you think moving to the Ann Arbor/Ypsilanti area affected your songwriting and career path?
It made me want to get to work. When I moved here, one of the first things I did was (going to the) Ann Arbor Folk Festival, and seeing Sam Beam (Iron and Wine) playing by himself. It was one of the most life-changing shows! I remember bawling my eyes out and thinking, "Man, this is how it's done." He was so refined and calm, the songs were great, and he was an excellent host. That turned me on to what was happening in The Ark and the folk music community in Ann Arbor and Michigan at large. Before I moved here, I was not aware of the great songwriting heritage that's happening in Michigan right now. I was not aware of May Erlewine or Chris Bathgate.
Ypsilanti is home to a bunch of (artists) like Misty Lyn and Matt Jones and the Reconstruction. (They) are some of my hometown luminaries when I moved over here, especially in the gothic-folk Ypsilanti circuit. These artists were doing exactly what they wanted to do: music that was folky and melodic, but also spooky. It was a cool thing to be around, and it made me want to constantly improve.
It's interesting that you bring up the Michigan folk scene because my observation is that when people talk about Michigan music, they bring up the big names of the past, whether it's Motown or proto-punk of the '60s or the techno scene in the '80s. But as far as current-day artists, I don't think Michigan has a lot of notable names the general public recognizes, even though there is a (healthy) and celebrated folk scene here. Do you think Michigan should be recognized more for current music?
I would like Michigan to be a little more recognized because there are cool acts that were incubated here, and I don't think everybody knows it. When I was going to Michigan, there was an audio engineer I used to work with who lived in the same house as all the guys who would later become Vulfpeck… We would cook breakfast together and I didn't think anything of it. When Vulfpeck got huge, a lot of people didn't fully associate them with Michigan necessarily, because they are such a global phenomenon. But I am sure their success and the success of Theo (Katzman) and May (Erlewine) is likely putting Michigan on the map more as a songwriter destination, but I would love it if it was more known than that. Michigan has its own sound, (and) Midwest folk music has a different feel than folk music written in L.A. or Nashville. I think it might be the winters.