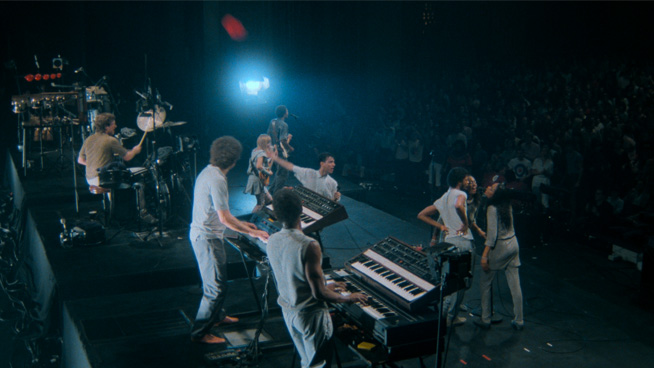 Photo: Jordan Cronenweth ~ Courtesy of A24
Sept. 21, 2023 ~ As the classic concert film featuring the Talking Heads, "Stop Making Sense," is set for a remastered release, the original lineup is reflecting on the ambitious tour.
Vocalist David Byrne, keyboardist-guitarist Jerry Harrison, bassist Tina Weymouth, and drummer Chris Frant have been making the press rounds in preparation for its IMAX premiere on Sept. 22. In an interview with the Los Angeles Times, the members shared why the Stop Making Tour in 1983 was the bands' final tour.
"It was hard to think about how we could top this," Byrne said. "That was the looming question. We didn't have an immediate answer. Maybe in time we might have figured out a way to not get compared to this incredible thing we did, but immediately afterwards, it was like, oh man. Couldn't think of anything."
"We had a thought of doing residencies in different cities with the four of us and maybe some of the others, but 'Stop Making Sense' had an ongoing life of midnight shows, and the idea of competing with it was more difficult than it would have been for a film that had a run and ended," Harrison said.