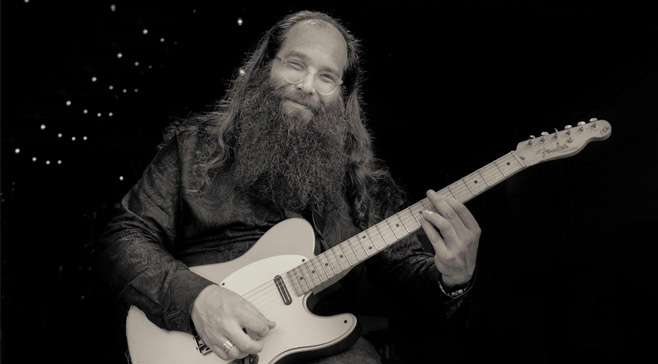 Photo: Courtesy of Doug Coombe
Oct. 20, 2023 ~ Ann Arbor native Laith Al-Saadi has seen a lot of change in the music industry since he began making music as a teenager.
The 46-year-old musician has an affinity for the classic rock, blues, and jazz artists he grew up with, which he showcased through the songs he played on the popular singing competition show, "The Voice," in 2016. Remembering fondly the protest songs of the Vietnam War and the Civil Rights Movement, Al-Saadi still believes music has the power to introduce people to new, philosophical ideas.
"There was so much artistry fueling the fire, and there was this belief that music could help change the world in a non-violent way," Al-Saadi said.
Al-Saadi has been making blues-tinted music since he was in his high school band, Blue Vinyl, though he is quick to point out that he is not a blues artist. Instead, he thinks of the blues as an extension of roots music, classic rock, and blues.
Al-Saadi earned two jazz degrees from the University of Michigan, wanting to stay in Ann Arbor due to his pride in Michigan music. His career highlights include opening for Buddy Guy in Battle Creek, making it to the finals of "The Voice," and reaching number one on the iTunes blues single charts following the competition.
However, this success was snatched from Al-Saadi when the COVID-19 pandemic canceled in-person concerts, leaving Al-Saadi unable to tour and make money as a musician. The timing could not have been worse, since he spent half his life savings to record his fourth album in California shortly before the pandemic began.
The album is fully recorded and mastered though, with session drummer Jim Keltner (George Harrison, John Lennon, and Neil Young), bassist Jerry Jemmott (Aretha Franklin, B.B. King, and Herbie Hancock), and keyboardist Mike Finnigan (Jimi Hendrix, Tracy Chapman, and Buddy Guy) all playing on the record.
Al-Saadi is currently planning the best way to release the album to make back his investment, most likely releasing through his website. He expects to have it released in the coming months and people to follow his Facebook page for updates.
Al-Saadi spoke to ann arbor's 107one about his upcoming album, Arab American representation in music, and his thoughts on the music industry today.
ann arbor's 107one: Who are your musical influences?
Al-Saadi: I came up through that standard, classic rock mindset (with) bands like the Beatles, Pink Floyd, Led Zeppelin, and the Rolling Stones. When I started playing guitar, I realized the common thread through the guitar players I loved (Eric Clapton, Jeff Beck, and Jimmy Page) is that they were all rooted in the blues… Once I heard Muddy Waters, Buddy Guy, and Willie Dixon, it exploded from there.
What are some musical characteristics often found in Laith-Al-Saadi songs?
I would hope that they (listeners) know that it is rooted in the tradition of great electric guitars, (and) I hope they hear the blues in what I do. I just do not want to be defined as a blues musician, because my music is attempting to take it beyond that level. But it certainly is a strong part of what I do. I do not shy away from anything that has moved me or made an impact on me that I like.
How did you get onto "The Voice?"
I was not a fan of music as a competition, so I did not watch "The Voice." I was constantly told by people at shows that I needed to try out for it, and after a while, it (grew on) me. I was not going to cancel gigs to go wait around a building to audition with a boombox in front of some Justin Bieber fan. But if I had the right circumstances, I would consider it, meaning if they sent me an email or something and gave me an appointment, I would consider it. Be careful what you wish for, because that's what happened.
They found me somehow, gave me a VIP audition slot, and I ended up auditioning for the director of casting for the show. I was 38, and I had been working six nights a week. There are articles from 2011 talking about me being the hardest-working man in Michigan show business. Where do you go from there? I am the only Arab American blues rock player that I know of, so I felt like I was limited by that because there's such an underrepresentation of Arab Americans in the U.S. music industry. I was not planning on making it far. I thought, "You know, if I can make it two or three rounds, that will really pump up the Michigan fan base and maybe improve the level of gigs I was playing.
My whole goal was to stay true to myself. I did not try to figure out how to win or pick songs that were going to go over great. I stayed true to the music I loved and what they let me do, and I kept on making it through week after week… I got to the finale, (where) I played with Joe Walsh from the Eagles and played the end of "Abbey Road" with an orchestra. That was the most poetically perfect way that I could have left the show because The Beatles were why I started playing music.
How does your experience as an Arab American affect you as a musician?
I was warned well before I got any kind of notoriety or fame that I should change my name. By keeping my name, I know I have certainly hurt myself in terms of money that I would have because it sounds so ethnic. At the same time, I do not speak Arabic, I did not grow up Muslim. I grew up in an Arab American household, so my father is Arab and my mother (has) mostly Norwegian and European (ancestry).
I am just as American as everybody else; I know nothing else but this country, language, and culture. I wanted to help break down barriers because unfortunately, I have not seen a single positive representation of an Arab American in a film since I have been alive. I do not personally think that exists in modern culture, and the villains, the people that are being fought against are them. I wanted to help maybe make people think and break down barriers.
I heard you have a new album recorded. What can you tell me about that?
It was an amazing record to make, and I cannot wait to get it out there because the songs just poured out. It's strange when you are excited about something and it's so fresh, (then to) just sit on it and not be able to tour, especially when the model has changed with streaming. We are told now as artists: "You no longer tour to support the album, you make the album to support the tour…" The idea is you are putting out the album as an advertisement so people will buy tickets to your shows and your merchandise. That might work as a revenue stream if you could play (shows), but as soon as it was ruined for the music world that we could not sell physical media and make money off it…, the world shut down because of COVID-19 and we could not play any venues. I went from the top of my career to being on unemployment in the span of a year.
What has been preventing you from releasing this album?
I spent half my life savings on it, (so) I am not giving it away for free. That is the bottom line. I am going to try something a little bit revolutionary, (by) only releasing the album so people (have) buy the entire album. They won't be able to buy different tracks, and I'm going to sell it only through my website and not release it to streaming so people can't listen to it for free. If (people) pirate it, then they will be given cease and desist orders.
I will get this (album) on streaming at some point because I do not want to fight people hearing my music, but I want a chance to make back the investment I made monetarily so I can continue to make my art. I cannot get back in the studio if I am giving away those kinds of investments… Eventually, I will have it for sale physically at shows.
What is the best way people can listen to your music and support your work?
The best way for people to support me is to come see me play live and to purchase my music, not to stream it… When you see a show, buy a CD or a T-shirt there if stuff is available. I am going to make sure that my albums are all up for sale on my website so people can directly pay through PayPal for the tracks.