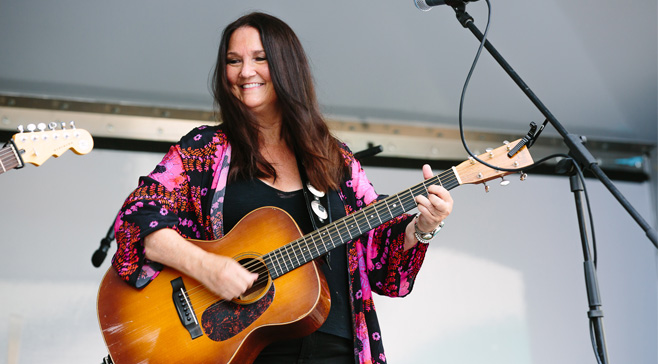 Photo: Courtesy of Judy Banker
After a two-year pause in making music, Ann Arbor singer-songwriter Judy Banker felt reinvigorated in her craft when sitting down to write her fourth album.
Banker is a veteran of the Ann Arbor music scene, who has developed her evocative and sweet-melodic brand of alt-country for nearly a decade. With the help of her band mates, and her son Ben Sayler in the production chair, she is set to release her fourth album "Bona Fide" and will host a release party for the record at 8 p.m., Nov. 4 at The Ark music venue.
Her solo musical journey began in 2014 with the release of her debut album "Without You," a raw and emotional record that rose out of the chaos from the death of her husband, John Sayler. He was a musician as well, with the couple of 30 years sharing a passion for rootsy music like John Prine, Townes Van Zandt, Emmylou Harris, and old protest songs.
After playing music together throughout their relationship, Banker was left to explore her grief through her own songwriting.
"When John died, I didn't know what to do with myself and I started writing songs," Banker said. "Some lightweight folky songs, but others were completely raw songs of loss and grief. I had no intention to do anything other than to record those songs as a tribute to John, (but) I had the good fortune to be playing music with Dave Roof, who owns the Rooftop Recording studio in Grand Blanc.
"He helped me record my first album and made me feel so at ease and comfortable with the process that I have since worked with him on every one of my recording projects. If I hadn't worked with him in the beginning, I don't think I would have continued with recording."
She would continue to develop her songwriting over the years, never one to shy away from writing about difficult themes of love and politics. Banker would go on to release "Devils Never Cry" in 2016 and "Buffalo Motel" in 2020 shortly before the pandemic began. After stepping away from songwriting for a couple of years to process the pandemic and find a new appreciation of nature, Banker began writing "Bona Fide" with her band.
The show at The Ark will feature a performance from fellow Ann Arbor musician Annie Bacon, along with Banker selling prints of her photos taken during the pandemic. A portion of the proceeds will be donated to the environmental work of the Michigan League of Conservation Voters.
Tickets for the show can be purchased online. ann arbor's 107one spoke to Banker about "Bona Fide," her songwriting process, and how her son helps with making her music.
107one: With your new album "Bona Fide" being your first since 2020, I have to ask: How did the pandemic affect you as a musician?
Banker: "Buffalo Motel," came out in January 2020. We had an album release concert at The Ark, a local concert at the Old Town Tavern in late February, then the pandemic hit and everything closed. We did virtual performances over the next couple years but did not get to perform "Buffalo Motel" much after it was released.
I was so overwhelmed by work changes and just trying to figure out how to navigate the pandemic that music took a back seat for me. I run a small clinical therapy clinic for eating disorders and we had to move out of our office and transition to a Zoom platform practically overnight. People were so stressed and scared, every therapist in town had a waiting list. Our team of clinicians could barely keep up, plus our own lives were turned upside down… The one creative outlet I had was going for walks and drives west of Ann Arbor in the rural areas of that part of town. It was so beautiful, quiet, and natural. I started taking photos of the scenes I saw out there, and it turned into quite a pastime for me.
What went into the making of this album and what sound were you aiming for?
I assumed as the music scene began to pick up in 2022 that we would focus on playing songs from "Buffalo Motel." I asked the band to start getting together every month or so to dust off those songs for future performances. I only wrote one song between 2020 and 2022, so I did not have much new material for the band.
But soon after we started getting together again, I found myself writing songs in anticipation of our next practice. The musicians I play with are very collaborative, so when I bring a new song to them, I know they will take it and mess around with it to find a good approach. This is a process we really refined while working on "Buffalo Motel." My son helped produce (that album) and encouraged the band and me to step outside of (our) comfort zones, to take a more innovative and signature approach to my songs. When I brought out new songs, everyone kicked into gear and immediately started workshopping the songs with fresh ideas. In that way, we were not really aiming for a particular sound. What we were aiming for was bringing out the heart of each song, whatever it took. In the end, each song on "Bona Fide" has a distinct sound – the songs float from genre to genre, and even combine genres. Doing it this way, I feel like we consolidated a unique band sound for the album.
How have you developed your sound over the years?
I ended up writing more songs for my second album, "Devils Never Cry," and I was getting better at songwriting and finding my voice. The sound of that album was very much folk-country. I worked on my songwriting within the confines of that genre, and I did not even imagine trying a different sound. With "Buffalo Motel," Ben was willing to work with us as a producer. He grew up listening to his dad, and he listened to me write and perform the songs from my first two albums. He told me that he thought we could do more with my songs and had lots of ideas… Ben would bring in clips and ideas from vastly different bands and artists like Thom Yorke, Sharon Van Etten, and Jackson C. Frank to help us move out of our comfort zones. "Buffalo Motel" had a more percussive, expansive sound that I really liked and we took that sound and improved on it with "Bona Fide."
You seem to pride yourself greatly on your lyrics, tending to be provocative or introspective when penning them. Were there any lyrical themes you specifically wanted to tackle on "Bona Fide?"
(The album) evolved organically, so there were no themes that I set out to explore other than my usual fascination with relationships: What makes us stay, what makes us leave, and what love is all about. I believe that learning to love and to be loved is one of the main tasks for us in this life, and maybe the most difficult. As I wrote songs for "Bona Fide," I realized I was often writing about the struggle of love, being hurt, and wanting to leave, but wanting to stay too. Seeing the knots that tie up a relationship and calling it what it is, and maybe still staying or letting go. Someone suggested some of the songs are about epiphanies in relationships, so maybe that is kind of a theme.
It seems with climate change, the pandemic, and geo-political battles, we are being forced to see beneath the surface more and more, to not just accept the party line but to see for ourselves what is truly happening. These issues are on my mind a lot, so that may have also seeped into the personal struggles in my songs.
When sitting down to write your lyrics, what does the process look like for creating them?
That's a tough question! Every time I finish a song, I worry I will never be able to write another one because I don't really have a tried-and-true method. I often come up with a chord structure or rhythm on my guitar first and mess around with that, then I play around with phrases or specific words that come to my head. Maybe I will listen to the lyrics of some songwriters I love, (which) somehow trigger words and imagery to come to my head. Once I get the first line or two though, my mind grabs on and I just start writing and re-writing. I cannot let go until it feels right, and it says something that I need to express. It could take a couple of weeks to get a song down or more — I tweaked the lyrics to some of the songs on "Bona Fide" up until our final recording session. I truly love playing with words so that kind of final tweaking is fun to me. But it is also a part of the process that I feel compelled by: I can't let a song be finished until it feels just right to me in a way that is hard to explain, other than it feels whole.
What is it like being a part of the Ann Arbor music scene, and what do you think makes it unique to other local scenes?
The songwriter scene is amazing in Southeast Michigan! I hear anecdotally from people who travel through town that the Ann Arbor music is packed with talented artists as good as you will find anywhere… For me, the Ann Arbor music community caught me when I was stumbling after my husband died. I received encouragement and support from so many wonderful people, radio hosts, friends, and fellow musicians who asked me to play gigs and played with me, (along with) venue operators who took a chance on me. I look back on that time and it was like there was a giant safety net there for me. I am not sure if all music communities are like that. I like to think they are.
On "Bona Fide," Banker plays with David Roof (banjo, acoustic guitar), Tony Pace (electric guitar, lapsteel), John Sperendi (upright and electric bass), Alan Pagliere (pedal steel), and Brian Williams (percussion).