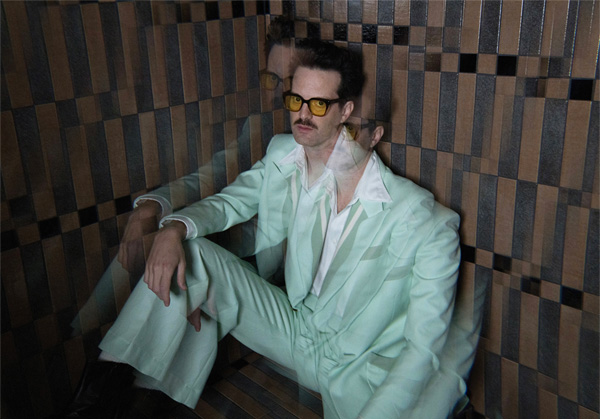 Photo: Courtesy of Janell Shirtcliff
While Mayer Hawthorne has called Los Angeles home for many years now, there is still a piece of the Mitten State with him in his musical influences.
Both a DJ and a songwriter, the Ann Arbor native has been making music with his signature modern soul sound for over a decade, recently releasing his newest studio album "For All Time" on Oct. 4. The album, out via his own P&L Records, was fueled both by "the flames of love" and Hawthorne's new found interest of psychedelic drugs, adding a romantic yet slightly trippy take to his sound.
Hawthorne (stage name for Andrew Mayer Cohen) grew up in Ann Arbor, where he became involved in the local music scene. He was first known as DJ Haircut as part of the group Athletic Mic League, before leaving for L.A. in 2005.
Since the release of his first album, "A Strange Arrangement" in 2009, Hawthorne's music has received critical acclaim and tens of millions of streams on Spotify. He played onstage live with legendary keyboardist Booker T. Jones, has become the go-to DJ for Kendall Jenner and Kourtney Kardashian, and received a Grammy nomination in 2013 for Best Boxed or Special Limited-Edition Package for his album "How Do You Do"
Since 2016, Hawthorne has helped his fellow musicians craft their work, producing for artists such as Jordan Ward, Chika, Freddie Gibbs, and Doja Cat. The latter collaboration saw him help produce Doja Cat's album "Planet Her," which earned a Grammy nomination for Album of the Year in 2022.
At the start of 2024, he will embark on his Hawthorne Rides Again North American tour, with a stop on Feb. 2 at the Majestic Theatre in Detroit. Recently, ann arbor's 107one caught up with Hawthorne and asked him about his new album, working with younger artists, and how growing up in Ann Arbor helped shape him as a musician.
107one: Can you describe the headspace you were in when sitting down to write "For All Time?"
Hawthorne: I was experimenting pretty heavily with psychedelics at the time, and I think "For All Time" is my weirdest album yet – but at its core, it is a celebration of love. I was riding high on the euphoria of love (and mushrooms).
This is your first record since 2020. How did the pandemic impact you as a songwriter and what motivated you to get through that time?
It was a strange time for sure. On the one hand, the world was going to end, and on the other hand, I fell in love with my now wife. I spent a lot of the pandemic writing, but not necessarily for myself, (as I was) expanding into working with a lot of other cool artists. That was super inspiring and motivated me to try different things with my own music.
You recently collaborated with up-and-coming electronic musician and producer Alice Ivy for her song "Howlin' At the Moon." How does it feel to work with up-and-coming musicians and give them a spotlight with your platform?
A lot of times, I end up getting just as much from it. (With) Alice Ivy, Doja Cat, Jordan Ward, Blu DeTiger, and Yung Bae, I have some knowledge and experience to offer them, but they teach me things as well. It is a really fun challenge and a totally different part of my brain. I especially love seeing how younger artists approach music because there really are no rules to this. As long as you end up with something good, it does not matter how you got there.
Looking back through your career, what would you say is your proudest musical achievement?
I have been so fortunate and there have been so many incredible "pinch me" moments, but ones that always come to mind are getting my photo on the wall at Lafayette Coney Island in Detroit or performing for 100,000 people at the Big House for the Winter Classic. There is nothing quite like that hometown love.
It is my understanding that you grew up in Ann Arbor, where you first started as a musician. Can you tell me how the Ann Arbor music scene impacted your career and you as an artist?
Ann Arbor is such a diverse melting pot. I grew up listening to Ice Cube, Public Enemy, and Slum Village, then I would go out to parties (where) the DJs would play Cybotron or Chicago ghetto house. I was (also) in a punk/alternative rock band in high school, (and Michigan) has Iggy Pop, Bob Segar, and MC5. (There is) Motown on the radio. It is such a crazy unique blend of styles, and I soaked it all up. The new album has bits and pieces of all those influences.