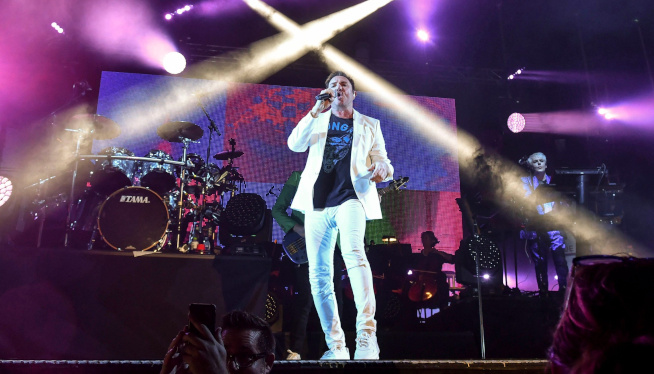 ---
Former Duran Duran guitarist Andy Taylor says his grim cancer diagnosis is slightly better due to a new drug that he says has extended his life "for five years."
Diagnosed with stage four prostate cancer eight years ago, he tells BBC Breakfast he was approached by Professor Sir Chris Evans, founder of The Cancer Awareness Trust in regards to an experimental drug called Lutetium-177, which he says is "targeted so it only sees cancer cells.
"It can't see healthy cells. It kills stage four cancer in your bones. And so what it's effectively done is extend my life for five years."
Taylor, who only revealed his diagnosis last year, adds that his health had been deteriorating before that and that he had been on what he called "the blacklist."
Evans tells the BBC, "When patients like Andy Taylor have unfortunately progressed to stage four prostate cancer with secondary metastases, particularly in the bone tissue, then treatment options are limited. He'd already received some of the best medicines available and was in serious decline.
"We took a deep dive into his genetic profile and the specific genomic mutations present in his cancer. We also computed a number of other very specific biochemical and physiological pieces of Andy's jigsaw.
"Based on everything we understood, the nuclear medicine Lutetium 177 injections were considered the best option for him."
Taylor had his first treatment six weeks ago and Evans says he's "done marvelously.
"We are optimistic he will do well on future rounds and this may result in quite a substantial life extension for Andy to continue being very creative and active making and performing live music."
And Taylor adds, "After the first round of treatment I said, 'If I'm OK, and you guys [his doctors] say I'm OK and do your blood tests, is it OK to start work again – light work – and get out?'
"I don't want to be a patient stuck here. I want to be a working patient, a little beacon of hope, because this stuff – cancer – just drags you and your family down in the darkness."
Taylor will release his first album in 33 years, Man's a Wolf to Man, on September 8th.
In Duran Duran news, their 2000 album, Pop Trash, will be released on vinyl for the first time on September 29th.
They perform at Little Caesars Arena on September 16th. Purchase tickets: Ticketmaster