HELP FIGHT HUNGER WHERE WE LIVE
Join us for the 31st annual Rockin' For The Hungry food and fund drive December 3rd-8th!
Every day, thousands of people in Washtenaw County rely on Food Gatherers, the area's largest food rescue and collection organization. Each year they distribute more than 6 million pounds of food to over 150 local non-profit organizations, and see to it that our neighbors in need, mostly families and children, won't go hungry.
We'll kick off Rockin' with a special #GivingTuesday broadcast on December 3rd with Martin Bandyke at the Traver Village Kroger, 2641 Plymouth Road from 6 am-10 am. For gifts of $15 or more, Kroger will give you a $5 gift card!
Then we'll be Rockin' the main event at Kroger, 400 South Maple Road Wednesday, December 4th-Sunday, December 8th.   
Stop by, and help us reach our goal of 1 MILLION MEALS! 
All gifts collected at Rockin' go directly to our friends at Food Gatherers, and will benefit those in need right here in Washtenaw County.
The Rockin' Silent Auction is back! Bid on cool music memorabilia from your favorite artists!
Winning bids will count toward our 1 Million Meal goal! The auction will run through Sunday, December 8th at 4:00 pm.
YOUR GIFT MATCHED 1:1
All donations made to Food Gatherers during Rockin' For The Hungry will be matched dollar for dollar thanks to generous community members including The Harold and Kay Peplau Family Fund, Irene Fast, and our Rockin' Power Hour sponsors!
ROCKIN' FOR THE HUNGRY BROADCAST SCHEDULE
Tuesday, December 3rd
Kroger, 2641 Plymouth Road
#GivingTuesday Kickoff
6am-10am with Martin Bandyke
–
Wednesday, December 4th – Saturday, December 7th
Kroger, 400 South Maple Road
6am-10am with Martin Bandyke
10am-3pm with John Bommarito
3pm-7pm with Kelly Brown
–
Sunday, December 8th
Kroger, 400 South Maple Road
10am-12pm with John Bommarito
12pm-4pm with The 107one Team
JOIN THE FIGHT AGAINST HUNGER
Help Food Gatherers alleviate hunger and eliminate its causes in our community. Bring a non-perishable or monetary gift to Kroger on South Maple, next to the Westgate Shopping Center during our Rockin' For The Hungry broadcast.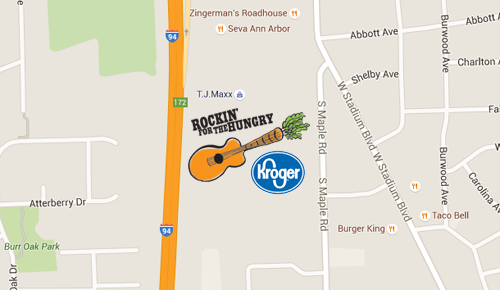 GIVE AT THE REGISTER
Stop by any Washtenaw County Kroger store, and give a Rockin' gift at the register!
GIVE A GIFT ONLINE
Make a gift online at www.foodgatherers.org
ROCKIN' SPONSOR